When its Christmas we all love to celebrate it with candy canes. Traditionally we like to have the white and red striped peppermint candy cane. Initially, the candy was made on demand of a German choirmaster to stop the children from making any noise during worship services on Christmas Eve. Now we all enjoy the candy cane during Christmas or otherwise. We surely do relish the original minty candy cane.
This time we have a list of crazy candy cane flavors. These flavors will twist your brains and some of them will make you think twice before even trying them out. So this Christmas get mad and play crazy candy cane games with your family & friends.
1. Pickle Candy Canes- We love our sour pickle with our lunch sandwich. But would you eat a pickle candy cane with your lunch? I don't think so. Some people have even reviewed this candy as vomit. You can just try it out as your Christmas challenge. Play the challenge game with your friends and the pickle candy
2.Pumpkin Candy Cane-If you can't bear to part from the favorite fall flavor you can buy this candy cane and enjoy your obsession.
3.Siracha Candy Cane-If you are a hot sauce person you should surely go for this candy cane. Do you like chili peppers with all your dishes? If yes, you should surely go for this candy cane. Siracha candy cane is perfect for you.Its apparently not infused with hot sauce its sweet from the outside and starts getting hot once you reach the center. You can use the candy as a vanilla ice cream topping or make a cocktail out of it.
4.Cinnabon Candy Canes- You always want to enjoy the holiday season without gaining any pounds, but you also can't miss those desserts. After all its Christmas and new years you surely want to enjoy those candy. If you are cinnamon roll person, we have a much lesser calories cinnamon candy cane. This candy will give you a cinnamon and vanilla roll feel within just 600 calories. Is'nt that great?
5.Wasabi Candy Cane- Another weird candy. This is a horseradish hot candy. Hope you do not have it with your sushi. But at some point maybe the Japanese will have it with their sushi. This Christmas buy the hot candy and celebrate your Christmas uniquely.
6.Bubble Gum Candy Cane- The name might suggest that its a bubble gum flavored candy, but it's not. It is a huge bubble gum in the shape of a candy cane. Bubblegum is undoubtedly a universal favorite. Enjoy this tasty gum and blow a massive bubble.
7. Gravy Candy Cane- If you want to be nasty to your secret enemy you can just give them this weird and disgusting gravy candy. Although some people like this candy. But mixing gravy with a sweet candy is profoundly repugnant.
8.  Molasses Candy Canes- Are you a stretched sugar candy person. Do you like the brown stretchy candy? Have you tried the hand pulled candy? If not your sweet brown sugar journey begins.Molasses candy will make your holiday a yummy one with lots of sugar treat for you.
9.Pixy Stix Candy- Pixy Stix candy cane has fulfilled our childhood desires. This candy is filled with the pixy stix powder and will make your Christmas all Willy Wonka.
10.Star Burst Candy Cane- The chewy sweet and sour candy flavor has taken a candy cane shape. It is hard like the candy cane, but it tastes exactly like the starburst. Get your starburst desires fulfilled by purchasing this one.
11.Bacon Candy Cane-These may look like the mint candy cane, but it tastes like bacon.It contains artificial flavoring and not real pig fat.You might like the mild flavor bacon. You surely can stuff this in your Christmas stockings.
12.Soda Pop Candy Cane- Now you can even eat your beverage.This sounds yummy to me. Dr.Pepper has the soda flavored candy cane. The pack contains flavors like A&W, CRUSH and DR.PEPPER.
13.Crayola Candy Cane- This one looks like crayon colors, but it tastes like fruits. It has six different colors and flavors and turns your mouth colorful.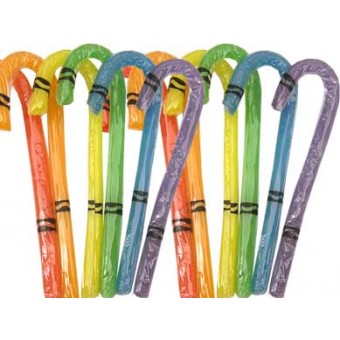 14.Watermelon Candy Canes- Watermelon is a summer fruit and its a delight to have it in the winters in candy cane form. We surely love all fruity flavored candy but watermelon is the best of them and having this during winters will be quite an experience for us.
15.Hot Cinnamon Candy Cane-So this is the third hot candy.Take the challenge, and if you are a hot cinnamon person, this one would be quite easy for you.
16.Root Beer Candy Cane- If you are root beer person then this holiday you can eat your beer instead of drinking it. Buy your root beer candy cane and enjoy your drink.
17.Swedish Fish Candy Cane- If you like the flavorful, chewy Swedish Fish, then you should try the Swedish fish candy cane too. Though these are hard candy's the flavor is precisely like Swedish fish.
18.War Heads Candy Cane- You are in for an extraordinary sour candy cane. Warheads is a sour candy, but the candy cane version is super tart. If you like your candy super sharp, this one is a perfect treat for you.
19.Chocolate Mint Candy Cane- Many of us like the combination of chocolate and mint. This candy cane is the perfect combo of Hershey chocolate and mint flavors. Enjoy the hard mint and chocolate candy cane this holiday.
20. Huckleberry Candy Cane- Now gift this purple candy to your partner. As the color and the berry flavor is quite romantic. Celebrate a HuckleBerry holiday.
21. Hawaiian Punch Candy Cane-If you are a beach person and also love drinking your punch, this candy cane will make your holiday perfect. The company gives three flavors in one pack. The candy cane has tropical flavors like fruity juicy red, lemon berry squeeze and polar blast.
22.Jelly Belly Candy Cane-We surely do like jelly belly beans; the company now makes candy cane during the holiday season.They don't have all flavors of jelly belly.Jelly belly candy cane has watermelon, blueberry, and tutti-frutti flavors.
23.Blue Berry Candy Cane-The beautiful blue color makes it look desirable and we surely love the blueberry flavor.Hang these cute candy cane on your Christmas tree and have a unique candy cane this season.
Enjoy sucking on some flavorful & some weird candy cane.Stuff your stockings & hang some on your Christmas tree.You can enjoy some candy canes during Halloween and for those days when you are bored of the original minty candy cane, you can indulge in these extraordinary flavors. Merry Christmas to all our readers. May your secret Santa be kind and your Christmas wish may come true.
Facebook Conversations
comments