Valentines week is here and we are all excited to celebrate our love for our beloved ones. Do you know valentines day is dedicated to the great sacrifice made by Saint Valentines?  Let me tell you a story about valentines day. Roman Emperor Claudius 2 did not allow soldiers to marry their lovers for war. No one liked his decision, but no one had the guts to go against the emperor. Saint Valentine went against him and secretly started marrying soldiers before going to the war. Saint Valentine was punished and put in jail. His sacrifice to keep the love strong for all the lovers of Rome is celebrated as Valentine's day.
Celebrate this valentine by making some relishing and tasty recipes for your loved ones. As it is rightly said, "the way to anyone's heart is through his/her stomach."
1. Conversation Heart Cheesecake-  We surely cannot start valentines without conversation hearts. Click here for the recipe. 
2. Heart Shaped French Toast With Rasberry Sauce- I am sure everyone loves French Toast for breakfast.  For the recipe click on the link.
3. Heart Egg Toast- Your loved ones don't want to miss on the proteins. Check the recipe here.
4. Heart  Pan Cakes- Surprise your Joey with some heart pancakes.
5. Heart Cinnamon Rolls-  Do you love cinnamon rolls? If yes this is the perfect recipe for you.
6. Red Velvet Pancake – Get that red velvet, Get that sugar sweet. Check the recipe here.
7. Red Velvet Donuts- Surprise your family with this unique donut.
8. Apple Rose Pastry- It's valentines so there has to be a rose recipe.
9. Valentine Sushi Roll- I love sushi, we all love sushi. Check the recipe.
10. Bacon Roses- For all the Bacon lovers. Check out the recipe here.
11. Bell Pepper Eggs- Try the beautiful and relishing recipe. Check out the recipe here.
12. Heart Filled Pancakes-  Enjoy the heart filled pancakes. Check out the recipe.
13. Rainbow Heart Filled Bun Cake- Show your colorful love with this rainbow heart filled bun cake. Check the recipe here.
14. Valentines Frozen Hearts- Make this delicious snack for the loved ones. Check the recipe here.
15. V-day Waffles-
16. Valentine Day Smoothie- Surprise your partner with this smoothie. Check the recipe here.
17. Heart Shaped Bacon and Cheese Hash Brown- Make the heart-shaped bacon. Check the recipe here.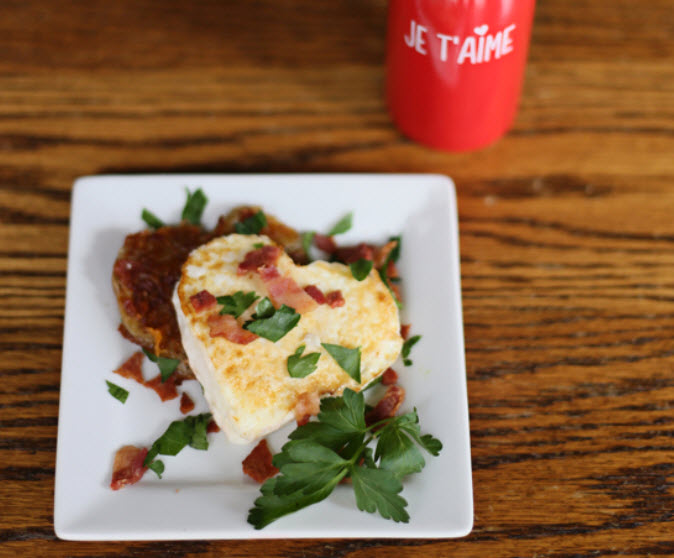 18. Lazy Strawberry Cinnamon Rolls- Relish this beautiful and tasty. Check the recipe here.
19. Cannoli French Dippers- Make the breakfast in bed experience surprising and relishing. Check the recipe here.
20. Bacon Heart in egg- Heart eggs for a loving month. Check the recipe here.
21. Easy Cheesy Bacon Quiche Recipe-  For the cheesy recipe click on the link.
22. Waffagato Dessert- Get all the sweetness in this link.
23. Hot Chocolate on a Stick- Try this recipe for your chocolate cravings.
24. Raspberry Butter Flake Rolls- If you love sweet Raspberry you should try this recipe.
25. Red Velvet Crepes with Rasberry and Sweet Cream Cheese Filling- Try the recipe for some creamy affair.
26. Hearty Ricatta Doughnuts-  Make the tasty heart-shaped doughnuts and make the valentines morning intresting. Check the recipe here.
27. Eggs Benedict- Make your porched eggs differently. Check the recipe here.
Your loved ones will surely enjoy and relish these recipes on valentines morning. Make these recipes for the valentines week and your family will love you even more.
Let us know your valentines experience in the comment section below.
Facebook Conversations
comments