Check out some beautiful & strange photography under the microscope.Connect with your environment and nature.These pictures will surprise your natural instincts towards mother nature.At the 2017 Nikon photomicrography competition, there were 2000 entries from 88 countries.Here are top 14 winning images from the competition.
1. Skin Cells
This picture represents a human skin cell expressing an excessive amount of Keratin.This image won the number one position in the competition.The subject matter is an immortalized skin cell with fluorescent Keratin.
Picture Credits: Dr. Bram Van Den Brock, Andriy Volkov, Dr.Keesjalik, Dr.Reinhard Wind offer &Dr. Nicole Schwarz.
2. Senecio Vulgaris
This picture won the 2nd place.The image is taken in Israel.Senecio Vulgaris is a flowering plant and the film is the seed head of the flower.
Picture Credits-Dr.Havi Safaty.
3. Algae
The image is of Volvox Algae also known as globe algae.The Algae is forming colonies and it is looking so damn beautiful.This one is at the 3rd place.
Picture Credits-Jean-Marc Babalian
Place: France
4. Taenia Solium
Is a tapeworm image under the microscope. This one is at the 4th spot.
Picture Credits: Teresa Zgoda
Place: Rochester Institute of technology. U.S.A
5. Mold
The mold picture showing the multicellular filaments called HYPHAE have grown on tomato won the 5th spot.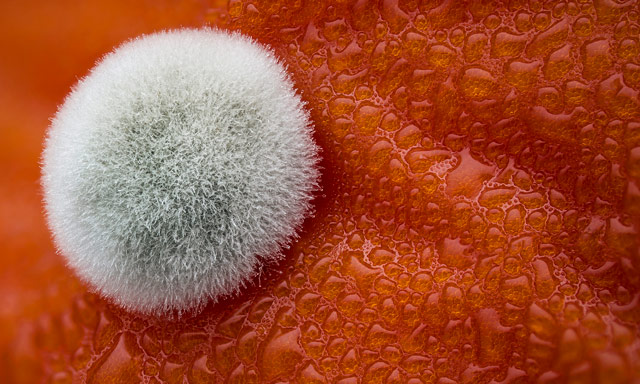 Picture Credits: Dean Lerman.
Place: Israel
6. Lilly Pollen
You won't believe this picture is the pollen of Lilly flower and won the 6th title
Picture Credits: Dr. David A. Johnston.
Place: United Kingdom
7. Human Eye Nerves
This picture is a human eye ciliary ganglion.
Picture: Dr. Ryo Egawa
Place: Japan
8. NewBorn Rat Cochlea
In the picture, Sensory hair cells are green in color & spiral ganglion neurons are red.Won the 8th title
Picture Credits: Dr. Michael Perry
Place: Switzerland
9. Tissue
The Institute of life sciences U.K grew cartilage-like tissues in the lab using bone stem cells.In the picture collagen fibers are green in color and fat deposits are red.
Picture Credits: Catarina Moura,Dr. Sumeet Mahajan,Dr.Richard Oreffo & Dr.Rahul Tare.
Place: United Kingdom
10.Weevil
Phyllobius Roboretanus comes at the 10th place
Picture Credits: Dr.Csaba Pinter
Place: Hungary
11.Credit Card
This is how a credit card manufacturing hologram looks like under the microscope.
Picture Credits: Steven Simon
Place: Texas, U.S.A
12.Opiliones
The spider picture also known as Harvestmen is on the 11th winning position
Picture Credits: Charles .B. Krebs
Place: Washington, U.S.A
13. Exaerete Frontalis
Orchid cockoo bee picture at the 12th position.
Picture Credits: Levon Biss
Place: Ramsbury, U.K
14.Mestra Butterfly
The view of an ordinary Mestra butterfly egg chosen at the 14th spot.The egg is laid on the leaf of the Noseburn Plant.
Picture Credits: David Millard
Place: Texas, U.S.A
This is a fantastic fusion of science and art.Hope you enjoyed viewing such a mesmerizing data. Data and picture credits.
Facebook Conversations
comments