'Vadodara' the cultural capital of Gujarat is bestowed with different places with a touch of Mugfuls creativity, bored? Don't worry I am not going to bore you with the information available in websites, I l just jot down few different ideas, places some of you haven't tried out and it must be tried atleast once.
1. Laxmi Vilas Palace

Place where you can sense and feel the creative ideas of our Mughals. It is constructed in Indo- Saracenic architecture style. It is the attraction place for tourist. Its the Darbar hall, which is the most attractive spot for people which are carved with the precious stone. Mostly many movies Palace scenes are shooted here. The Palace is open on Tuesday and Wednesday from 11 am to 5 pm.
2. Sayaji Baug

It is a glory for Barodians consisting of 98 species of trees. Its the largest garden in western India consisting 3 gates, it is spread over 113 acres in short it will take almost half day to explore the whole garden.It is located near Kala Ghoda, Vinoba Bhave Road, Sayajigunj, Vadodara.
Timings:
All days of the week except Thursday
5:00 AM – 8:00 PM (Garden Timings)
10:00 AM – 10:00 PM (Train Timings)
10:00 AM – 6:00 PM (Zoo Timings)
3. Aurobindo Ashram

It is a vibrant center of life in a modern urban setting. It was founded in 1926. If you are looking out to burn out your stress try this place, great place for meditation. Serenity is assured here. It is located in Dandia Bazar, Jambubet, Vadodara open from 9 am to 7 pm.
4. Baroda Museum and Picture Gallery
It is an attraction spot especially for tourists it is a part of Sayaji Baug preserves the richest collection of art, sculpture, ethnography and ethnology. The Egyptian mummy and skeleton of a blue whale draws the attention.
Places to have fun:
5. Ajwa Fun world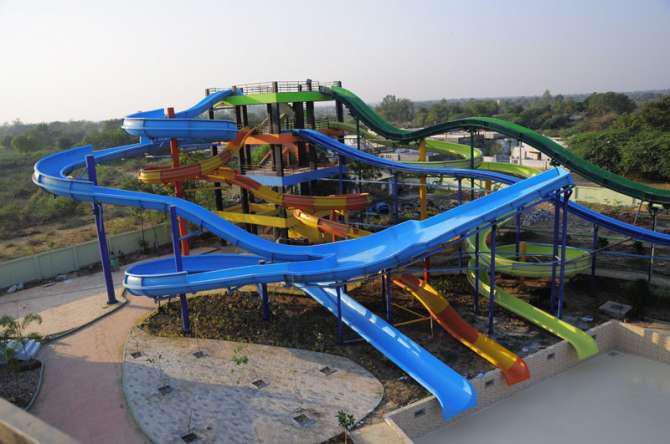 The place which strike first when asked rides in Vadodara is 'Ajwa Fun world'. The place is adorned in the laps of nature, Interesting and high rides makes Ajwa world more popular. It offers 22 different high-tech slides.It is located 24 km away from Vadodara. Open from 10 am to 6 pm
6. Paintball at Delta 9
Playing with paintballs is noticeable here. The best place to visit if you have the fun friend gang and looking out for entertainment. It is located in Gorwa, Vadodara, and is open from 1 pm to 10 pm
7. Boating at Sursagar Lake
Boating is one of the best activities one must try. Vadodara has the best option of 'Sursagar Lake' where you can sink your mood with boating, the place is located in middle of the city of Vadodara
The lake remains full of water throughout the year. The statue of 'Lord Shiva' in the lake makes boating experience divine.It is located in Mandvi, Vadodara.
Water Fun:
8. Sindhroat
Place where couple mostly have their most romantic moments. It is mostly famous amongst many of the young couples as well as young groups. It is 10 km away from Vadodara, nearest place and best refreshment place for 1 day.
9. Hathni Mata
One of the beautiful waterfalls, most people goes to visit. It is the wish listed place among Barodians youngsters. It is surrounded by green carpeted hills. Wet breeze refreshes the air. It is located 80 km from Vadodara.
10. Zarwani Falls
If you want a break from the hustle and bustle of the busy city life try Zarwani Falls, a totally isolated place, I assure you will be totally out of the disturbed world, mobile phones will be dead as the waterfall is deep inside the jungle. Zarwani falls is located is located in the Shoolapaneshwar Wild Life Sanctuary in the district of Narmada, a place close to Vadodara (97 kms) from the city.
Please note: Carry food items with you, it is hard to find anything to eat there.
Positive vibes from temples in Baroda:
11. EME Temple
This temple displays the best example of equality, the dome-shaped temple have various features representing various religions. The design and concept of the temple is marvellous.
12. Iskcon Temple
The temple is a representation of ancient culture, it is beautifully carved and highlighted in Rajasthani designs, creative art work make the temple more attractive. It is located in Harinagar, Gotri, Vadodara, timing is from 5am to 8pm.
13. Tapovan Temple
It is one of the famous temple in Vadodara maintained by Reliance Petrochemical Industries.
The architecture of the temple is uniquely blended with perfect colors, Trees in the surrounding creates different pleasing atmosphere. Temple consists of all gods and goddess of Indian Culture. It is located in Refinery Rd, Vadodara, Opening timings of the temple is at 6 am to 8 pm.
14. Kirti Mandir
The attractive temple is constructed in the shape of letter 'E' comprises of terraces, balconies, domes etc. It is one of the famous tourist attraction situated on the north of the statue of Prince Fatehsinhrao Gaekwad near the Vishwamitri Bridge. It is also known as the temple of fame.It is opened all days of the week from 9
am to 7 pm.
15. Varie Tea (Coffee shop)
Best café to spend beautiful time with your special person. If you are choosing this place in the evening then the sitting arrangement in the open place is best in the evening the cool breeze fill up the moment more special. It is very relaxed and refreshing cafe. They have a variety of dishes.
16. Cafe Bistro (coffee shop)
Interiors make the cafe favorite, the comfy seating will make the moment perfect. An interesting game like chess is provided there, adds the ambiance. The dishes are evidently delicious.
Non-veg restaurants:
17. Lazeez
Most of the favorite Mughlai restaurant. Taste and ambiance of the restaurant is perfect. At a reasonable rate, you can enjoy the best taste here. Sitting area is well managed where you can comfortably enjoy the dish. It is located in Alkapuri, Vadodara, timings are 12- 3pm , 7- 11pm.
18. Barbeque Nation
Non- veg is ultimate here, if you are preparing yourself to try out Barbeque nation, make sure you are damn hungry, unlimited option is highly unlimited, desserts complete the taste. It is located in Alkapuri, Vadodara, Timings are 12:30-3pm, 7-10:30 pm
19. Garba Night at United way
In Gujarat, Navratri is celebrated in the form of Garba dance form performed for nine long days. When you talk about Garba in front of any Barodian the first name they going to say is United way Garba, no place can be better than United way of Vadodara for Garba. The way they decorate the ground enhances the beauty of the ground. They make sure they do not get any negative reports for security. They encourage the best garba player with amazing prizes. It is the not the place to be missed visiting.
Shopping comes with fun:
20. Inorbit Mall
The best shopping mall in Vadodara, spacious, with satisfying space for parking. Almost all renowned brands are available in this mall, it is maintained well, cleanliness is a addition in its popularity, the ambiance force people to come again.
21. Nava Baazar
Thinking of shopping mostly people of Baroda first land here to Nava Bazaar, Number of shops with a number of varieties, your choices will be fulfilled with manageable rates. It is around 37 Km away from Railway Station.
22. Mangal Baazar

Another place where you can spot half of the population of Baroda, favorite option for most of the Barodians. At a cheap rate, you can get almost every item. It is 6 Km from Baroda railway station, nearest option for Barodians.
Dhabbas you must try out:
23. Kismat Katyawadi Restaurant
Most of every culture accepted Katyavadi cuisine, in Baroda, you will find many kathyawadi restaurants among them most visited restaurant is Kismat Katyawadi restaurant, your favorite taste at a reasonable price. It is located at Karelibagh, Vadodara.
24. Sangam Punjabi Dhaba
Their Dal Makhani is outstanding. Limited dishes in their menu but handpicking food, quality and stomach fulfilling food. Kali Daal, Roti, Jeera Rice, Papad and Buttermilk is best there. It is located at GJ SH 87, Vadodara, timings are 7Am-12Am.
Dishes and things that should not be missed:
25. Raju Omlet
Omelet lovers will find this place as heaven, they get around 15 to 20 varieties of egg dishes, loads of butter, the pav served with omelet have a different taste which makes the combination perfect. 'Sunday ho ya Monday Roz khao Ande' (Be it Sunday or Monday, eat eggs every day), fits perfectly well with Raju Omlet.
It is located at VIP Road, Karelibaug.
Timings are 10 am to 2 pm, 4 to 10:30 pm.
26. Mahakali Sev Usal

A different dish with different taste, it is a local favourite place and super crowded, food lover will just enjoy his dish, spicy, masala blended dish. It is located at GF 14/15 Prathamesh Plaza, B/H Nehru Bhavan, Kirti Stambh, Palace Rd, Vadodara, It is open from 8:20 am to 9:15 pm.
27. Pendawala Duliram Ratanlal Sharma
One of the oldest sweet shop in Vadodara, known shortly as Duliram Pendawala. Pendas of this shop has become the signature sweet of Vadodara. It is located at Raopura, Vadodara, timings 8 Am-10Pm.
28. Ratri Bazaar
I don't think the concept like Ratri Bazaar really exists in other places too, Food court of Vadodara with several options for food, it has around 42 shops with different dishes, it is a boon for Vadodara at night, they can gather here to have their choices of food. It is a favorite hangout spot for youngsters at night, open from 8 Pm and stays up till 1 Am. It is located at Mangal Pandey Rd, Fatehgunj, Vadodara.
29. Akota Bridge
Best bridge for hangouts especially in summer, the breeze pleases the mood. Very well maintained with trees, sunset is nicely spotted there, it adds scenic beauty to the place, It has adjoining big ground Navlakhi Ground where big shows take place.
30. Fun Street
Spend your Sunday playing interesting games, it is a concept brought by times of India. It is a full package for Sunday, no age limits everyone can enjoy their game. Best concept for rejuvenating the day, several games are played including yoga sessions. It gets started at 6:30 am. Try to make your Sunday interesting participating in fun street.
Conclusion:
These are the 30 things which must not be left during your visit to Vadodara. If you are localite and know better things to do in Vadodara, please share them in comment below and help other readers and tourists.
Facebook Conversations
comments